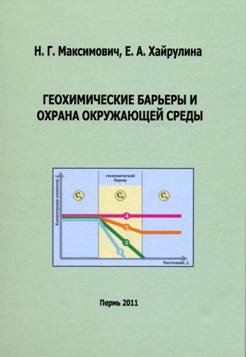 N.G. Maximovich, E.A. Khayrulina. Geochemical Barriers and Environment protection. Perm State University. - Perm, 2011 - 248 p.
The Institute of Natural Science of Perm State National Research University published a monograph "Geochemical Barriers and Environmental Protection" by N.G. Maximovich and E.A. Khayrulina.
The book provides an account of the reliable results of the long-term study (1984-2011) aimed at the improvement of the environment protection. Over recent decades, geochemical barriers have been successfully used for reducing pollution levels. The application of this mechanism helps avoid complex construction of sewage treatment plants and other expensive environmental measures.
However, geochemical barriers have not been widely applied yet, due to the lack of profound studies and theoretical proof of their applicability.
The authors represent the scientific and methodological basis for the development of geochemical barriers for solving environmental problems and demonstrate the technology of environmental protection.
The methods are based on the acceleration of the natural transformation of pollutants into harmless forms or their concentration, focused on specific areas of limited space in the lithosphere, i.e., the development of artificial geochemical barriers.
The book examines some general theoretical issues of development stages of geochemical barriers, their qualitative and quantitative characteristics, etc. The monograph offers a classification of the barriers in accordance with their configuration in space and it generalises the diversity of man-made geochemical barriers. The authors specify the barriers with natural properties used spontaneously or purposefully in the natural environment and the artificial barriers, developed by special technologies.
A significant part of the monograph is the description of the authors' practical experience and expertise of developing geochemical barriers for environmental improvements in different industries: coal mining, oil extraction, placer mining, metallurgy, construction, etc.
The book is well provided with illustrations (71 pictures) and the bibliography, which includes over 200 references. It has the subject index and an extended summary in English (35 pages).
The monograph was reviewed by V.I. Sergeev, Dr. of Geology, professor of Moscow State University, and A.U. Opekunov, Dr. of Geology, professor of St. Petersburg State University.
The publication is for a wide range of professionals and students of geology, geography and environmental studies. It is also an excellent book for specialists in public administration, design and research organizations related to environmental protection.
On purchase of the book, please, address to e-mail olgam.psu@gmail.com.